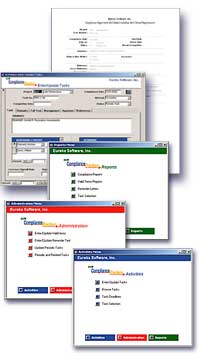 Data entry should be easy and intuitive. ES Compliance Tracker's user interface has clear and easy-to-use data entry fields that populate a variety of customized reports.
Enter/update all tasks in one location

Familiar Web-based form interface
There are several ways to locate a single task or a group of tasks. Task review summaries provides a real-time look at which tasks are due and who is responsible.
Easy to locate a specific task

Identify responsible parties for each task

Filter out groups of tasks based on specific criteria

Generate task review summaries
Track accountability and deliverables with easily generated individual reports or summary reports. Any report can be conveniently emailed to responsible parties directly out of the application. Custom reports can be configured to specific compliance needs.
Reminder letters are easily generated and can be printed out and mailed or emailed directly to responsible parties. Reminder letter text can be customized and letters can be generated with one click at any daily interval needed!
With added customization, ES Compliance Tracker can be integrated with any project management software. One-to-one mapping of data fields ensures accurate migration of project management data. The following features are included:
Links to supporting documents for each task can be added for full accessibility

Additionally, eureka software can create a collaborative website to house the documents.
Online support for ES Compliance Tracker provides current product and contact information, technical support, upgrade installations, and an up-to-date online help feature at: http://www.ESComplianceTracker.com. On-site training is available from eureka software.