Windows SharePoint Services Team Collaboration Websites
eureka software has the experience to create a custom-designed collaborative website for your team process. Communicate, share documents, and work together on a project using a custom-designed collaborative website. Collaborative websites provide an easy way to share a process with internal and external consultants and clients. Access controls such as password protection and user roles provide a secure work area. Separate sites can be configured for separate projects with links between the sites for easy access to multiple project sites.
Using Windows SharePoint Services technology, a collaborative website can easily be integrated with Microsoft Office products, allowing contact lists to be directly exported to Microsoft Outlook. Files can be edited and saved directly to document libraries out of Microsoft Word. This integration feature provides a more efficient work process and seamless communication with the collaborative site. Alerts can be created when a document is edited or deleted, or when a list has changed, so users can perform their activities in a timely manner.
Features of a Windows SharePoint Services collaborative team site might include:
Lists

Libraries

Discussion boards

Surveys

Integration with client programs

Site customization

Security

Rich graphics

Integration with Microsoft Office products
eureka software designed and implemented a portal website and two complimentary team websites to support the Sabine River Authority, State of Louisiana, and the Sabine River Authority of Texas relicensing process for the Toledo Bend Project, FERC No. 2305. Using SharePoint Services technology, one site is a public website and the other is a password-protected team site for consultant-client communication and document sharing. The public website contains documents that can be downloaded and viewed, a calendar of events, and lists for meeting summaries and correspondence.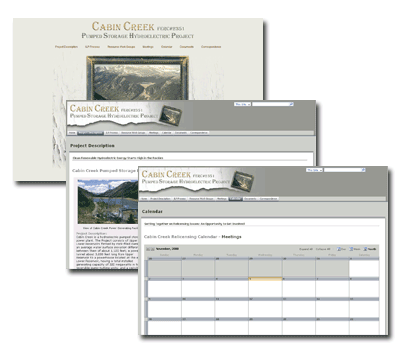 In September 2008, eureka software designed this website to help with the public involvement process related to the relicensing of the Cabin Creek Pumped Storage Hydroelectric Project, FERC No. 2351. The site incorporates the latest in Microsoft's SharePoint technologies. User roles can be assigned to control access and editing capabilities to certain documents. Because of the ability to view a team site in a Web browser, the relicensing team will be able to share documents with key external consultants and agencies.