eureka software has developed a number of websites which take advantage of multiple technologies. Each interface is custom-designed specific to the client's needs. Most of our sites incorporate large databases, calendars, and PDF documents. Click on a link below to see information about a specific web site created by eureka software. Click on the images or the title link to go to the actual web sites.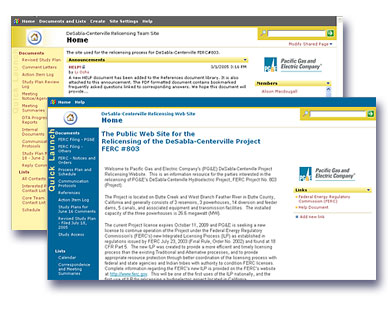 eureka software created two web sites to facilitate PG&E's DeSabla-Centerville hydroelectric relicensing process. One site allows public access to relicensing documents and the other site allows access only to the designated relicensing team. Both sites use SharePoint Team Services technology to manage the process and the documents and were customized specifically for the Desabla-Centerville relicensing process.
SharePoint© Team Services technologies provide document management, creation of lists such as contacts lists, integration with Office 2003, a calendar, correspondence and meeting summaries to facilitate communication and access to important information. Eureka Software's expert knowledge of these technologies means we can design and implement a SharePoint solution to manage any process. It's not just for hydro!

HDR|DTA is a nationwide team of consulting engineers, regulatory specialists and engineers providing a full range of consulting services for the hydropower, water resources and energy industries. eureka software redesigned and revamped the site to improve navigation and communication, provide an easy to update architecture, and prepare the site for future expansion and functionality.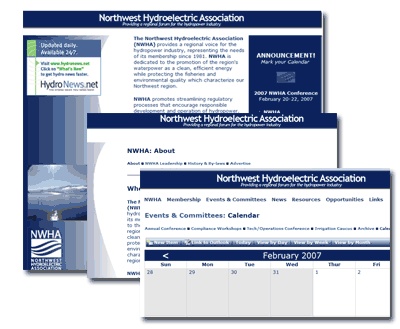 The Northwest Hydroelectric Association (NWHA) provides a regional voice for the hydropower industry, representing the needs of its membership since 1981. NWHA is dedicated to the promotion of the region's waterpower as a clean, efficient energy while protecting the fisheries and environmental quality which characterize our Northwest region.

eureka software worked with NWHA to redesign and enhance the NWHA web site. The site's new navigation structure makes it easier to find relevant information and incorporates the latest SharePoint© technology to enable greater collaboration among NWHA members.

Hydro Relicensing Web Site created for Sacramento Municipal Utility District. This site is a premier example of eureka software's web development and interface capabilities. It was designed to facilitate a federal hydropower relicensing process and to integrate with SMUD's existing web structure. It incorporates complex document management as well as database integration into a functional and accessible interface. Click on the image to go to the site.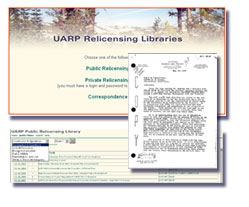 Sacramento Municipal Utility District's Upper American River Project Archival Library and Correspondence Database
eureka software scanned and organized thousands of archival documents and correspondence collected over a period of 50 years from the UARP relicensing library. A database was created from an Excel spreadsheet which was used to provide data to a searchable intranet site to access the documents. The library is divided into a public and private section using password controlled access to segregate private documents. The library is available on SMUD's intranet and also on DVD.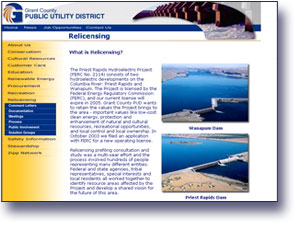 Priest Rapids Relicensing
Public Utility District No. 2 of Grant County contracted with eureka software in 1999 to upgrade and redesign their corporate web site and to implement a relicensing web site to serve the needs of relicensing the Priest Rapids Hydro Electric Project. A new web site design has recently been launched based on eureka software's original site architecture.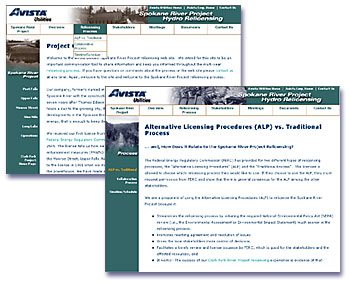 The Spokane River Relicensing Web Site was designed to integrate into the existing architecture of Avista Utilities corporate web site. The Clark Fork (FERC# 2058) Site was an additional design that paralleled the Spokane River Relicensing Site.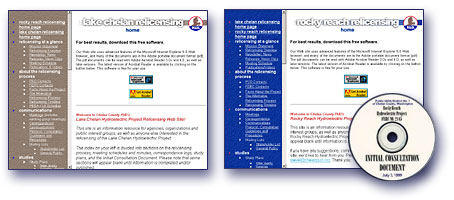 These sites for the Chelan County Public Utility District are an information

resource for agencies, organizations and public interest groups, as well as anyone else interested in the relicensing of the Lake Chelan and the Rocky Reach Hydroelectric Projects. These sites are being published semi-annually on CD-ROM. Another related product is the interactive kiosk eureka software developed for the Rocky Reach Visitors Center. Click on the CD image for more information.