History
Once wild grasses covered the rolling hills of the Palouse country. It is a land originally formed by a series of prehistoric floods and windblown volcanic ash that left an ancient mountain peak named Steptoe rising above the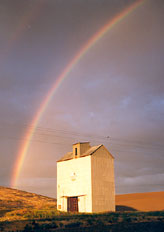 tops of thousands of earthen drifts. The Nez Perce camped on the Snake River. Camas root was dug, game was hunted, and salmon were caught. In the late 19th century the railroads and dry land wheat farming, like a high tide, transformed the landscape and culture leaving the dune-like hills covered with wheat – a sea of grain.
Our greatgrandparents emigrated from the Volga River Valley in Russia and were descendants of Germans traded into Russia by Catherine the Great. In Russia they were promised and given land to farm. As the generations passed, the land was divided, the political climate became unstable, hardships were endured, and change was inevitable. They moved to America.
Approached by a former civil war general who was recruiting for the railroad, the Volga-German farmers were enlisted to settle the Palouse country in southeastern Washington. The railroads, which spider-webbed their lines across the country, acquired free parcels of land. As part of the business plan for hauling cargo of wheat by rail, our ancestors were recruited with the offer of inexpensive farm land. The prospect of farming wheat in a land of rich, fertile soil was an inviting opportunity. As the generations passed the land was divided, the world evolved, and change was inevitable.
Fields of Endeavor
Two decades ago we took over farming operations from our parents. We pioneered organically grown grains and became the first family in the region to use computers and telecommunications to assist in crop production, marketing, and distribution. Our stability as a family and as a business came from lives firmly planted in the earth: weeding the garden, hoeing the summer fallow, driving grain trucks, 4-H projects, croquet tournaments, and freezer jam. Our creative spirit blossomed from our family philosophy to live life and appreciate the beauty of the earth. As a family we have an appetite for world travel, a thirst for knowledge, and a hunger for creative endeavors and thoughts. Our latest farm project (eureka botanicals), inspired by a trip to Provence, France, was the planting of rows of fragrant lavender.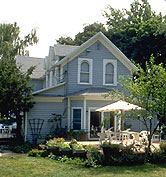 eureka software evolved from our family farm business. Over the years, our interest in multimedia communications stemmed from our knowledge, insights, and natural curiosity about the budding technology industry. When the right time came, we reseeded our fields back into native grasses and put them to rest. We founded eureka software, inc. Now we cultivate the field of multimedia communications.
Living, conserving, and working on Eureka Farm has instilled in us self-reliance, integrity, a creative sense of wonder, and a healthy sense of adventure about the earth and the people on it.