License Publication
eureka software can create searchable archive DVDs that include all license application support documents, including interactive PDFs and videos. The documents are easily accessible to those working on license negotiations
.
And, as the relicensing process moves forward into implementation and through settlement negotiations, having license application documentation content that is accessible by a search of interactive PDFs and the simple click of a mouse is a win-win situation for both the client and FERC.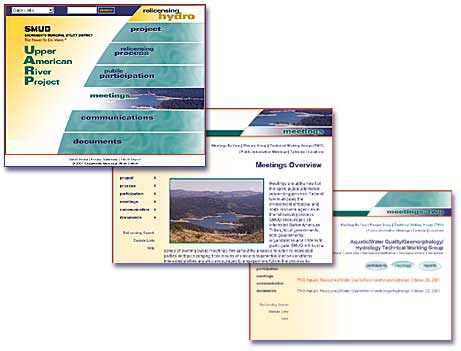 A Prime Example!
By early January 2006 the UARP Application for a New License that was submitted to FERC on Friday, July 15, 2005, had been reviewed by FERC and was found to have no deficiencies. This review of content is the first stage in a two-year review period. The application was submitted to FERC in CD and print formats. eureka software processed the documents using templates designed by eureka software with custom-formatted styles for publication of linked/bookmarked electronic documents. The resulting documents, complex interactive PDFs, were used in creating the print versions and the searchable multiple CD sets (14 CDs in a set) that were submitted to FERC. They were concurrently published to the SMUD hydroelectric relicensing website.
---
Relicensing
Each licensing project is as unique as the individuals who administer and participate in the licensing process. Rely on our reservoir of experience with a multitude of hydropower licensing projects to customize an appropriate solution for all of your licensing needs.
eureka software's experience is coupled with integrity and ingenuity. The innovative use of leading-edge multimedia technologies and a tenacious attention to detail enables eureka software to consistently produce products and to provide services that exhibit inventiveness and integrity. Experience plus innovation equals expert and comprehensive e-solutions.
Let Our Experience Power Your Success
eureka software has the experience and knowledge from being the first to create a hydro relicensing electronic publishing system. Working directly with our clients and FERC, we developed this innovative system of interactive communication tools that included e-filing, CD/DVD, and Web publication. This system of multimedia publication exceeded the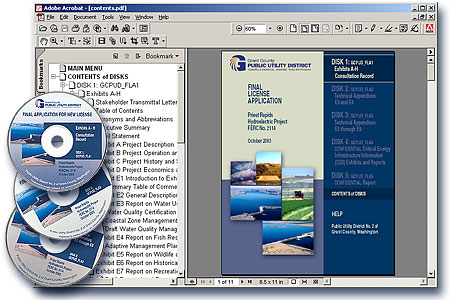 expectations of all parties involved.
eureka software worked with FERC to develop standards

for electronic submissions of all energy documents and license applications. This has become the default process for filing hydroelectric licenses.
We can create a quality, economical site to facilitate your relicensing project. You can realize significant cost savings with our flexible design that integrates with your existing website and document management system.